FYI: Remember how they are produced.
AMMONIA
source: http://www.progressivesafety.co.uk/html/ammonia_handling.html
Ammonia is also a metabolic product of
amino acid
deamination
. Ammonia excretion is common in aquatic animals. In humans, it is quickly converted to
urea
, which is much less toxic. This urea is a major component of the dry weight of
urine
. Most reptiles, birds, as well as insects and snails solely excrete
uric acid
as nitrogenous waste.
source: http://en.wikipedia.org/wiki/Ammonia#Biosynthesis
Ammonium ions are a
toxic
waste product of the
metabolism
in
animals
... In mammals... it is converted in the
urea cycle
to
urea
, because it is less toxic and can be stored more efficiently.
source:
http://en.wikipedia.org/wiki/Ammonia#Excretion
UREAUrea
or
carbamide
is an
organic compound
with the
chemical formula
(
N
H
2
)
2
C
O
. The molecule has two
amine
(-NH
2
) groups joined by a
carbonyl
(C=O)
functional group
.
source:
http://en.wikipedia.org/wiki/Urea
source; http://en.wikipedia.org/wiki/File:Urea.png
The
handling of urea by the kidneys
is a vital part of human metabolism. Besides its role as carrier of waste nitrogen, urea also plays a role in the
countercurrent exchange system
of the
nephrons
, that allows for re-absorption of water and critical ions from the excreted
urine
. Urea is reabsorbed in the
inner medullary collecting ducts
of the nephrons,
[4]
thus raising the
osmolarity
in the medullary
interstitium
surrounding the
thin ascending limb of the loop of Henle
, which in turn causes water to be reabsorbed. By action of the
urea transporter 2
, some of this reabsorbed urea will eventually flow back into the thin ascending limb of the tubule, through the collecting ducts, and into the excreted urine.
This mechanism, which is controlled by the
antidiuretic hormone
, allows the body to create
hyperosmotic
urine, that has a higher concentration of dissolved substances than the
blood plasma
. This mechanism is important to prevent the loss of water, to maintain
blood pressure
, and to maintain a suitable concentration of
sodium
ions in the blood plasmas.
The equivalent nitrogen content (in
gram
) of urea (in
mmol
) can be estimated by the conversion factor 0.028 g/mmol.
[5]
Furthermore, 1 gram of nitrogen is roughly equivalent to 6 gram of protein, and 1 gram of protein is roughly equivalent to 4 gram of muscle tissue. Subsequently, in situations such as
muscle wasting
, 1 mmol of excessive urea in the urine (as measured by urine volume in litres multiplied by urea concentration in mmol/l) roughly corresponds to a muscle loss of 0.67 gram.
source: http://en.wikipedia.org/wiki/Urea#In_humans
FYI: UREA IS ABOUT 50% OF NITROGENOUS WASTE.

URIC ACIDUric acid
is a
heterocyclic compound
of
carbon
,
nitrogen
,
oxygen
, and
hydrogen
with the
formula
C
5
H
4
N
4
O
3
. It forms ions and salts known as
urates
and
acid urates
such as
ammonium acid urate
. Uric acid is created when the body breaks down
purine
nucleotides. High concentrations of uric acid in blood serum can lead to a type of
arthritis
known as
gout
. The chemical is associated with other
medical conditions
like ammonium acid urate
kidney stones
.
source: http://en.wikipedia.org/wiki/Uric_acid
source: http://en.wikipedia.org/wiki/File:Uric_acid.png




In
humans
and
higher primates
, uric acid is the final
oxidation
(breakdown) product of
purine metabolism
and is excreted in
urine
. In most other
mammals
, the
enzyme
uricase
further oxidizes uric
acid
to
allantoin
.
[8]
The loss of uricase in higher primates parallels the similar loss of the ability to synthesize
ascorbic acid
.
[9]
Both uric acid and ascorbic acid are strong
reducing agents
(
electron donors
) and potent
antioxidants
. In humans, over half the antioxidant capacity of
blood plasma
comes from uric acid.
[10]
source; http://en.wikipedia.org/wiki/Uric_acid#Biology
CREATINE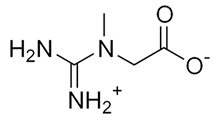 source; http://fitness.vpxsports.com/blog/bid/54395/Creatine-the-Best-Supplement-Period
Creatine
is a
nitrogenous
organic acid
that occurs naturally in
vertebrates
and helps to supply
energy
to all cells in the body, primarily
muscle
, by increasing the formation of
Adenosine triphosphate
(ATP). Creatine was identified in 1832 when
Michel Eugène Chevreul
discovered it as a component of
skeletal muscle
, which he later named creatine after the
Greek
word for meat, κρέας (
kreas
). In solution, creatine is in equilibrium with
creatinine
.
[1]
source: http://en.wikipedia.org/wiki/Creatine
Creatine is naturally produced in the human body from amino acids primarily in the kidney and liver. It is transported in the blood for use by muscles. Approximately 95% of the human body's total creatine is located in skeletal muscle.
[2]
Creatine is not an essential nutrient, as it is manufactured in the human body from
L-arginine
,
glycine
, and
L-methionine
.
[3]
In humans and animals, approximately half of stored creatine originates from food (mainly from
meat
). Since vegetables do not contain creatine, vegetarians show lower levels of muscle creatine, but show the same levels after using supplements.
[4]
source: http://en.wikipedia.org/wiki/Creatine#Biosynthesis